by Roy W. Scholl, IV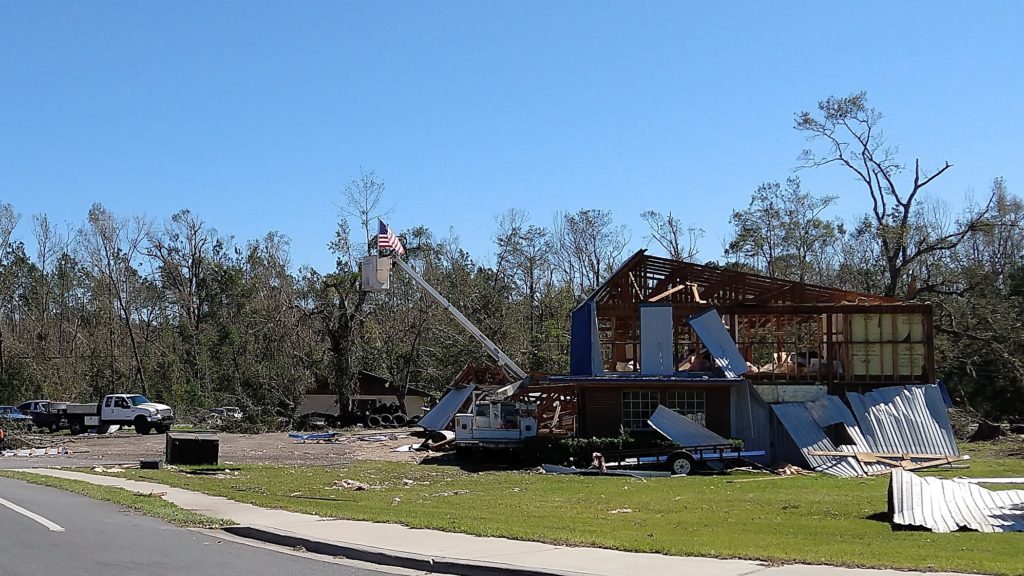 In a response to a request by Florida Search and Rescue, the Red Mountain Search Dog Association (RMSDA) recently worked to provide assistance to those affected by Hurricane Michael.
On the morning of October 11, 2018, RMSDA was called out to support rescue efforts in Calhoun County, Florida. RMSDA was instructed that EMS and Law Enforcement services based out of the county seat in Blountstown needed immediate assistance to clear roads and conduct welfare checks on stranded storm victims. That afternoon a team of NASAR (National Association of Search and Rescue) certified SARTECH II flankers and handlers loaded two vehicles and a trailer with a Bobcat skid-steer loader, several chainsaws, two search and rescue K9s, and enough food, water, and fuel to be completely self-sufficient. The trip to Blountstown took considerably longer than anticipated due to the difficulty in navigating through the destruction left behind by Hurricane Michael.
Early the following morning the team convened at the emergency operation center (EOC) in the basement of the Calhoun County Courthouse for that day's emergency management briefing. The biggest concern voiced for the day was that a river called the Chipola, which bifurcates the county north to south, was expected to crest thirty-four feet. Due to downed trees and power lines, individuals thought to be stranded within the flood zone needed to be reached and freed within 48 hours.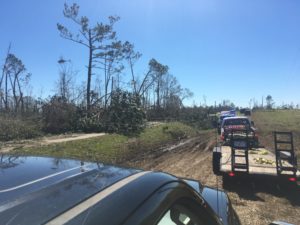 The RMSDA team was joined by a team of Florida Fish and Wildlife Conservation Officers (FWC) with chainsaws as well as a volunteer off-duty Okaloosa County Sheriff's Deputy. Everyone worked together to remove the downed trees and powerlines that blocked the roads. While some used chainsaws to cut through the debris, one member of RMSDA utilized the Bobcat and the off-duty deputy operated a small John Deere loader to push the debris off the road. Before the day was over, the team had successfully cleared Shumans Ferry Road, Morgan Tucker Road, and sections of County Road 275.
As the teams approached local residences, a member of RMSDA ran ahead to inform them they would be able to drive out soon and provided them with food, water, information about potential flooding of the Chipola, and where emergency supply distribution centers were being set up in Blountstown.
During that evening's debriefing RMSDA learned that additional support, including PA-TF1 (a federal Urban Search and Rescue Team from Philadelphia, PA), had begun to pour into Blountstown, and that they would be taking over most of the objectives of the following day.
Before leaving Blountstown, RMSDA delivered approximately 300 emergency food meals and several cases of water bottles to be distributed to residents.
The return trip north was in daylight and it was then that the team could fully grasp how complete and widespread the damage to our neighbors in the Florida panhandle had been.