by Janie Shelswell-White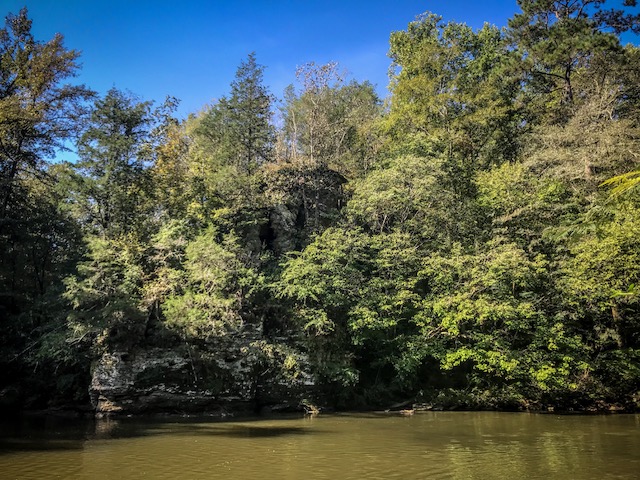 Found! It's a beautiful thing to hear as a Search and Rescue K9 handler, whether on deployment or during a training session. But often we are fortunate enough to have an equally beautiful location in which to train.
Last month the Red Mountain Search Dog Association had the opportunity to search some extraordinary property in Jefferson County owned by the Freshwater Land Trust. With well groomed trails, lush woods, clear streams running through boulder fields and surrounded by towering cliffs, we had a technically perfect environment for training.
Even though it was surprisingly close to a main highway and neighborhoods, the area has been so well maintained and left basically untouched by civilization, that it was easy to forget we weren't deep in the wilderness. Both air scent and trailing K9s enjoyed a good challenge in this new terrain; mixed with some play in the river as a reward for a search well done.
As both a decoy and a flanker, I got to indulge in my love of the outdoors as we traversed the creek beds and felt the momentary coolness of the breezes off the water and rock. It's places like this where the lines between work and relaxation become blurred.
We've enjoyed searching many areas over the last few years where the Trust has been involved. We have a long standing relationship with Turkey Creek Nature Preserve where they worked for two years to secure million of dollars from the county and private landowner contributions to help create the 700-acre preserve. We are also partners with Red Mountain Park, where the Trust worked with U.S. Steel to establish this urban park, one of the largest urban conservation efforts in Alabama history.
We look forward to a continued partnership with Freshwater Land Trust and encourage everyone to visit their website at www.freshwaterlandtrust.org to learn about their conservation initiatives and other properties across Alabama that are ready for you to search… for adventure.