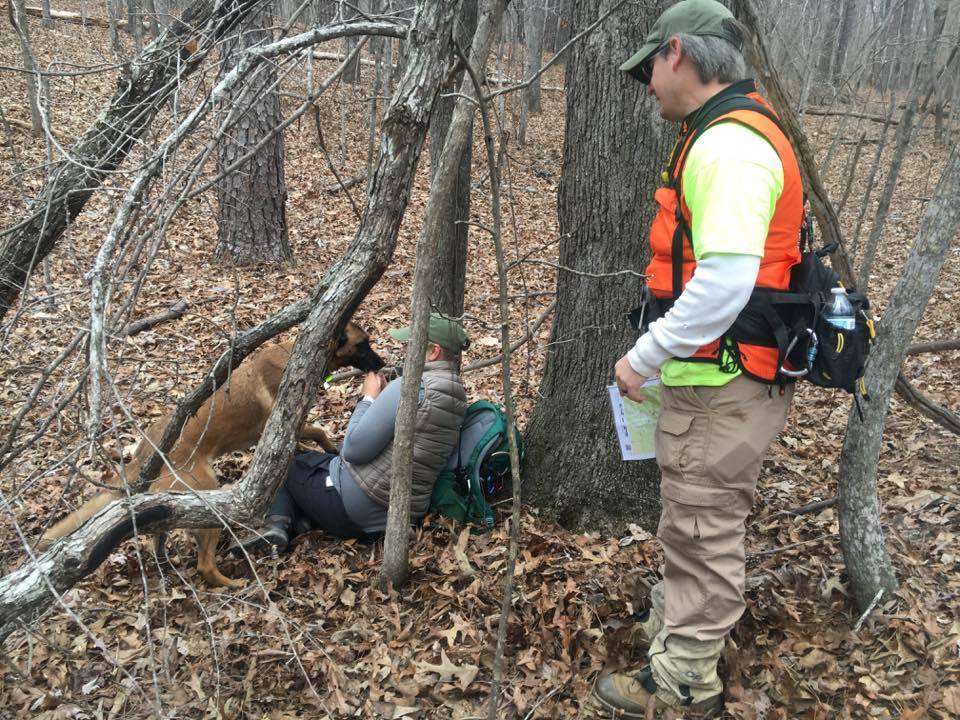 Be A Volunteer
You're sitting in the woods, leaning up against a fallen tree. The only sounds are wildlife and the rustling of the branches. Suddenly, you can hear the faint ring of a bell in the distance. As it grows louder it's accompanied by the "crunch, crunch, crunch" of leaves underfoot. And panting. Moments later you are no longer alone. If you were actually lost in the woods, it would be a lifesaving moment because it's the sound of a Search and Rescue K9 finding you. As a volunteer, it's the sound of a successful training run that can help our team save a life in the future.
Volunteering as a search dummy (or victim) is one of the most critical ways you can be involved with Red Mountain Search Dog Association. K9s need new people to find in order to keep their skills honed and better replicate a real search they will be called out to perform.
No experience is necessary. We welcome volunteers of all ages. (Young children will be placed with a parent or RMSDA team member.) Even if you have physical limitations, we can use you and place you accordingly.
What you can expect:
Upon arrival, you'll meet the team (K9s included). First time volunteers will be asked to sign a waiver.
A team leader will take you to a location and place you. You might be asked to leave a scent article for the K9 to smell before being sent out (a sock, hat, glove, scent pad, etc.)
You will be left in that location to "cook" while the team leader returns to base and the K9 is prepared.
You will be given a radio so you're always able to be in contact with the team.
And then you wait. You wait for the K9 to find you and then return with the handler. (More specific instructions will be given at the time of your deployment depending on the level of the K9's training)
When not hiding for us you are welcome to walk with the team and watch the K9s work the entire search.
What you need:
First and foremost, we're looking for people with a sense of adventure (and a sense of humor).
You will be in close contact with our K9s, so you need to be comfortable around dogs. (Our K9s are NOT bite dogs or aggressive.)
You will be spending a lot of time in the woods, so a certain comfort level in nature is important.
Wear good hiking shoes/boots as you will be placed in a variety of environments, from woods to fields.
Bring a backpack with basic supplies (water, snack, sunscreen, bug spray, allergy medication, etc.)
Depending on the season, bring appropriate extra clothes (dry socks, jacket, etc.). We will send a brief before you come out with specifics for that day to help you plan.
Bring something to do while you're waiting for the K9 to find you. It may take ten minutes, it may take an hour. So a book, smartphone, journal; anything that will make your time waiting more enjoyable.
Although we have a team photographer, you are more than welcome to take photos of your experience and share with others. This helps us recruit more volunteers in the future.
Sound Interesting?
So if you're searching for a new experience for yourself or your family, contact our Training Coordinator, Janie Shelswell-White at [email protected], and we'll set up a training day for you to join us.